Why AAYAM ?
AAYAM is the fastest growing institute of central India with highest percentage of selection in NEET & JEE.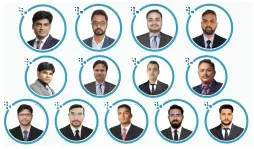 Best Faculty Team
The faculty team of AAYAM is an unmatched intellectual pool of mentors for NEET and JEE who have outstanding combination of proven record, experience and qualification. The unidirectional efforts by members of faculty team create an environment for holistic development of students in AAYAM through intellectually stimulating and result oriented education.
The teaching approach by AAYAM faculty team takes its inputs from the belief that the role of a teacher is not simply to bestow knowledge but it is to help the student seek more learning. A perfect blend of subject knowledge, experience and the art to teach the most complex topic in a very lucid way makes the faculty of AAYAM, the best team under one roof.
The regular rise in results and the culture of continuous academic research and development are reflectors of the desire of AAYAM academic team to excel not only for themselves but also for those who trust them.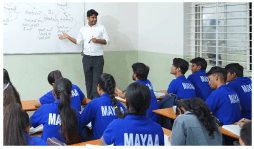 Reliable System
The seed of AAYAM is sown on the grounds of trust and satisfaction. We are promised to provide excellent academics with excellent system. The three values of our system is Determination, Dedication and Hard work.
Teaching Methodology
Classroom Work
Concept Building: Batch wise classes with limited students are held from Monday to Saturday regularly, separately for English & Hindi medium in air-conditioned spacious classrooms.

Lectures: Each Lecture of 1:30 hour, are designed according to the pattern of NEET and delivered by our enthusiastic faculties.

Revision Classes: Revision classes are provided on the demand of the students for some highly useful topics.

Doubt Sessions: These sessions are regularly scheduled in Time Table and also separately arranged for those students who require extra assistance for clarification of their doubts.

Board Classes (SETU): It is flexible programme in which multiple options are given to students to attend concise board classes of entire syllabus of Physics, Chemistry, Biology and English (as per requirement) to enhance their performance in board exams along with NEET.
Smart Study Material
DSAT – Daily Self Assessment Test: Every topic of daily lectures is comprised by a DSAT which is a collection of multilevel conceptual problems, designed to strengthen the concepts taught in the classroom and to improve question solving speed through time bound practice.

Subject and Topic wise Booklets (Modules): Module is topic wise theory and exercise booklet, designed according to the syllabus of NEET & NCERT, containing different types of conceptual, tricky & brain storming questions covering all the types of the features like time management, confidence boosting etc. Also to cover all possible types of problem which may be asked in forth coming exams

Question Banks: For adequate practice in each subject, question banks of selected topics are distributed to students which help them in gaining confidence & command on individual topics.

Concept Books of Physics, Chemistry and Biology containing concept maps of all the topics for faster revision.
Topic wise previous years board exam question bank and their solutions .
Topic wise previous ten years NEET question bank and their solutions .
NCERT important questions and their solutions.
Evaluations
Advanced Test System: To remove phobia of NEET examination and continuous test practice, Periodic Tests are conducted to evaluate student's performance and to develop their mindset to handle every type of question and manage the circumstances of examination like time management etc. Also to improve speed, accuracy and to identify strengths.

Minor Tests: These tests are basically based on the topics which are being currently taught during the time interval.

Major Tests: These tests are conducted in duration of 2 to 3 months to ensure revision and check the performance of student in the topics taught during this time. Board Pattern Test: Designed according to the Board syllabus to ensure best performance of students in their Board exams.

LAKSHYA Test Series (NEET): To enhance their score in JEE, at the end of session series of tests are conducted followed by discussion and revision classes.
Additional Features
Special dedicated mentors are allotted to each batch to provide concentrated efforts, highest academic and administrative care to produce top ranks.

Online Video lectures for revision purpose.
Co Academic Services
Digital Platforms:Student and parents mobile app is available for students/ parents to view academic progress, attendance status and other relevant information relevant to students need.

Student Feedback survey: Student Satisfaction Survey is conducted 3-4 times during the academic session to measure the academic performance of the faculty members individually on various parameters. The results are analyzed and used giving inputs to enhance the output of both students and faculty members.

Motivation Classes:To keep motivated the students on periodically basis, motivation classes are conducted. These classes are help to students to ease the stress and pressure from the mind. It is generally conducted by the directors and counselors.

Study Material & Home Assignment: Study material is provided to the students in the form of modules and DSATs. A module is typically a topic wise collection of problems in each subject i.e. P, C, M and B. It is provided to the students as printed Study Material (topic wise). The objective of the module is to achieve perfection in a topic while it is being taught through rigorous practice of variety of problems of various levels. The entire syllabus of approximately divided into 9 to 10 module in each subject. The contents of the module ends with Miscellaneous Question Bank (MQB) - which is a set of additional but jumbled problems and is meant for those students who want more problems to practice. After each Theory Class; the student is assigned to attempt some problems from the modules (keeping in mind around 15 Questions Per Lecture Per Subject) as Home Work. Further, these problems are discussed in the successive Theory Class for better understanding of the concepts/ fundamentals of the portion of topic taught in the previous class.

Counselling: We take special care for the students through our regular calling system; faculty and staff members regularly meet, interact and motivate the students towards achievement of their career goals. The academic, co-academic staff take care of the students' personal problems by listening to them and by taking appropriate measures.
Discipline In Aayam
General Discipline:AAYAM bears the responsibility of its students' academic performance and discipline within its premises only and is not responsible for the students' general behavior , act & conduct, boarding & lodging arrangements and discipline outside AAYAM premises. Parents are advised to remain in touch with their wards and keep a strict vigilance on his/her activities and behavior throughout the academic session.

Identity Card: On successful registration of students at AAYAM, they get the identity of a "AAYAMIST" in the form of an I-Card. Students are not allowed to enter AAYAM premises if they are not wearing their I- Card. A student's I-card also enables access to AAYAM academic resources. Student Uniform- AAYAM provides two pairs of uniforms (T-Shirts) for its students and it is mandatory for the students to wear their uniforms while attending classes or tests.

Student Uniform: AAYAM provides two pairs of uniforms (T-Shirts) for its students and it is mandatory for the students to wear their uniforms while attending classes or tests.

Attendance System: At AAYAM, students attendance in classroom sessions and tests is vital to their success in JEE (Main+Advanced), JEE(Main) and NEET(UG) and we have a regular attendance marking and monitoring system. The students/parents are informed of students' attendance regularly.

Vacations: There is no long vacation at AAYAM during course duration except for 7 days during Diwali and 2 days on rakshabandhan. AAYAM observes National Holidays and is also closed on its Felicitation Function - VICTORY and on Holi / Dhulandi.
Communication In Aayam
Student's Academic Performance and Evaluation Report (SAPER) Sheet Available on website, at student window and on AAYAM app. SAPER sheet is the performance report of a student and is sent by AAYAM to his/ her parents on a periodic basis. It communicates the result and reflects the efforts being made by the student. The test performance is also made available on the AAYAM website and is communicated to parents through SMSs, whatsapp and app notification.
Care In Aayam
We strive to maintain timely communication with students and parents, keeping them thoroughly and instantly updated about any information that is directly / indirectly relevant to a student's overall academic performance.
The information may include:
Regular / Doubt / Special Classes

Examinations / Test Schedules / Conduction

Academic Performance & Analysis

Class / Test Attendance / Absenteeism

Discipline and Rules & Regulations

Important Announcements

Counseling & Guidance

Competitive Examinations

Grievances & Complaints

Feedback & Suggestions
Modes of Communication from Aayam to Students / Parents:
Institute's Notice Boards / Time Table Sheets

Classroom / Test Centre Announcements

AAYAM Mobile App

SMSs on Mobile Phones

Calls on Mobile / Landline Phones

Website (www.aayamcareerinstitute.com)

E-mails on personal email IDs of students / parents

Through Students / Parents Satisfaction and Feedback Surveys

Management Staff (Reception / Front Office / Class Supervisor)

We are also always delighted to hear from the students themselves and parents regarding any feedback or queries that they might have and constantly encourage them for same.
Modes of Communication from Parents / Students to Aayam:
Calling at our Call centre on the Toll Free Number 07314058393

Calling at our Reception / Help Desk of Head Office / Study Centre

E-mailing at info@aayamcareerinstitute.in

Parents-AAYAM Meeting (PAM) - with non-academic staff

Through Tele-survey / feedback
Promising Results
AAYAM's Tradition to achieve success has made it a pioneer coaching Institute in the field of Entrance exam preparation. Since 2013 AAYAM's Success Graph In various exams is on a rise. AAYAM's Vision to achieve Excellence in Career Education has given 600+ Successful selections in various exams of MBBS and engineering. AAYAM gave the highest percentage selection from any Institute of central India. In 2021 AAYAM produced inspiring results in JEE Advanced, producing 533 AIR in its first attempt, establishing its presence in the field of JEE too with legacy of NEET. And it intends to keep on performing this brilliantly in the future.